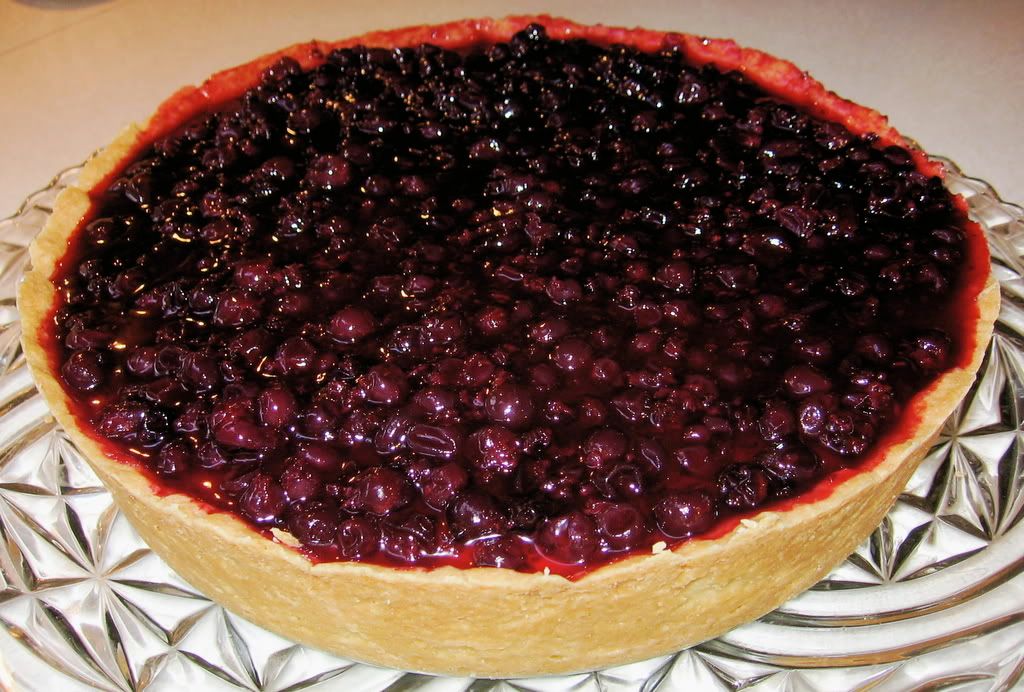 I had the pleasure of trying this dessert and it is good!
John Jones' Blackcurrant Cheesecake Tart:
You will need a 9 inch layer pan or a flan pan. Lightly grease, to aid in removal of the crust.
Shortbread Crust: Blend half cup of softened butter and quarter cup sugar together with a fork. Add one and a quarter cups all-purpose flour and mix by hand until crumbs are formed. Then mix thoroughly by hand to form a soft dough. Press onto bottom and sides of the pan. Prick bottom crust [ a lot ] with a fork to prevent it rising too much. Bake in a preheated oven at 325 F for 30 minutes until lightly browned. Cool in pan. Remove carefully, or if you think that won't work, leave in the pan!
Cheesecake Mix: In a small bowl combine 3 tablespoons of "Bird's" Custard Powder with half a cup of milk and mix until smooth.
Using a saucepan with a heavy bottom [ to prevent sticking later] combine one and a half cups milk and 3 tablespoons sugar and heat to just below the boiling point.
In the meantime , have ready a 250 gram package of Philadelphia Cream Cheese cut up into small cubes. I have tried other varieties and find them not to work as well.
As the milk is approaching the boil, add the custard mix and the cheese and begin stirring like mad as it is boiling until the lumps are gone. Pour into the crust and chill until firm – about 4 hours. Then top with fruit mixture and store in fridge.
Topping : Stew up your favourite fruit with a little water and the appropriate amount of sugar for the fruit and chill OR use a can of pie filling!!
Enjoy this decadent dessert! (submitted by John Jones)