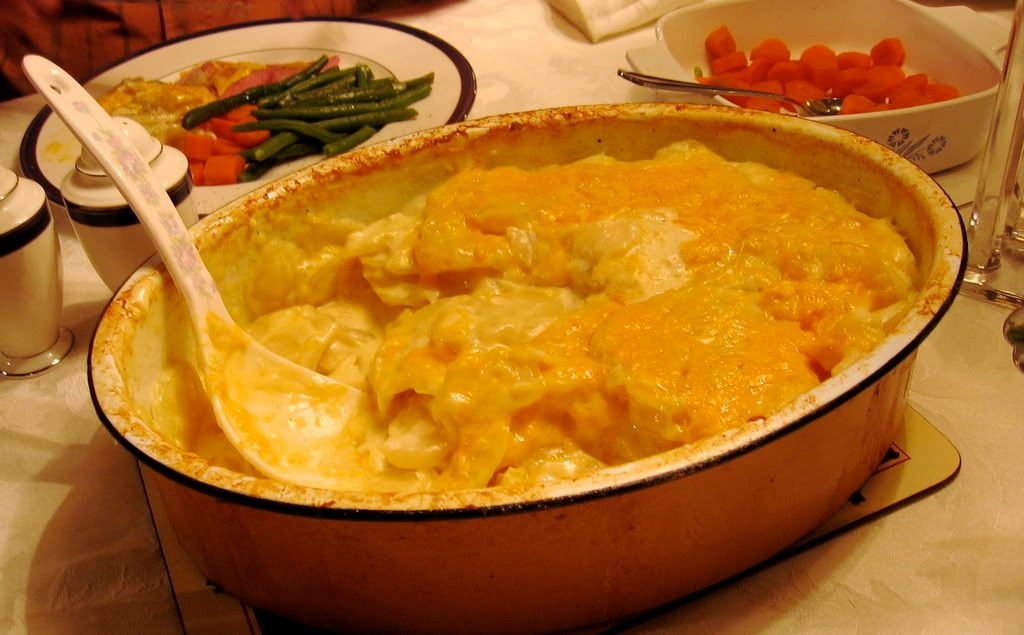 photo by Jocko
This is a fairly rich dish, so you might want to go easy on the second servings!
Yield: approx. 10-12 servings
Ingredients:
10 or so medium Pender or Vancouver Island russett potatoes (off island potatoes may be substituted in a pinch) peeled and cut into 1/8 to 1/4 in thick slices (note: one of those slide mandolin slicers makes the slicing go a lot faster)
1 quart whipping cream, or amount depending on personal preference
1/2 white sweet Walla Walla or large type onion, chopped finely
2 c medium cheddar cheese shredded, plus 3 or 4 slices
3 tbsp flour well mixed in 1/3 c cold water
salt and pepper to taste
In a 3 to 4 quart Pyrex or enameled cast iron casserole dish, layer the sliced potatoes, chopped onion, salt, pepper and shredded cheese alternately with the sliced cheddar "treasures" placed in suprise places within the dish. Pour the whipping cream gently over the top and place on a baking sheet with raised edges to catch any overflow during baking. Bake at 350 F for 1 and a half hours. 1/2 hour into cooking, check and if desired, lift the edges gently with a fork to distribute the liquid. Pour the flour and water mixture evenly over the top for the last 15 minutes of baking. Let cool slightly and serve.