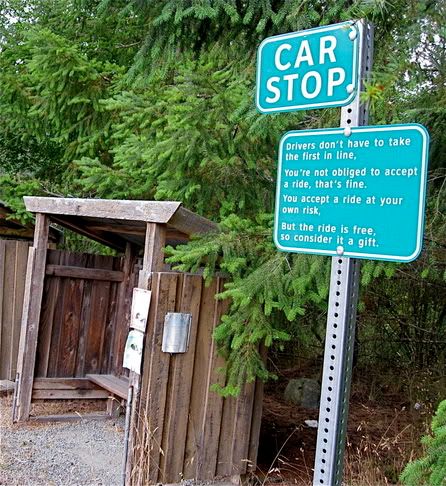 You are invited to the annual FORUM of MAP (Moving Around Pender) Alternative Transportation Society.
REINVENTING THE WHEEL
Saturday September 13 in the Community Hall 12.00pm – 2.30pm
12.00 noon  Assemble at the Library for a fancy – dress parade to the Hall.  Special prizes for the best costumes and floats for both adults and children.  Adult cyclists' GO SLOW race!
12.15   Official launch of the Car Stops Pilot Scheme and photo op with Trustees Ken Hancock and Gary Steeves
12.30  Mass Procession to the Hall
12.45  Awarding of prizes at the Market Place
1.00   Exhibitions and discussion groups in the Upper Hall.  We need your input.
1.30   MAP projects.  How can you be involved?  A talk by Margot Venton Chair of MAP
2.00  Why Car Stops?  A talk by Barry Mathias, followed by questions.
•  We are moving into an era of increased transportation costs, what can we do to prepare for the changes that are bound to happen?
•  What should be done to improve the safety on our roads?
•  Do we need more footpaths and cycle paths?  If so, where?  If not, why not?
•  What are our transportation expectations now, and in 10 years?
•  How effective are the Car Stops?  Will you use them?  Should we introduce the next sixteen Stops?
These are just a few of the issues you may wish to discuss.  The Forum is your chance to bring your ideas and concerns for public discussion.  If you wish to be actively involved, please come to our monthly meeting on September 6 at 10.00am in the #1 Fire Hall and help us plan the 2008 MAP Forum: Reinventing the Wheel.
Why Car Stops?
• the stops facilitate and legitimize ad hoc ride sharing, and eventually this could
become an accepted mode of transportation. most car owners do not hitch hike,
and have never hitched a lift, unless their car is being mended, but many are
willing to give lifts. the formalization of hitching could eventually lead to a
wider use of this service.
• it will help reduce or eliminate the dangerous practice of hitching on hills or
near blind corners.
• it will cut down on 'single occupancy' cars, and this in turn should reduce
emissions, reduce wear and tear on local roads, help to relieve parking pressure
at businesses and build community spirit and cohesiveness.
• the Pender Island Fire Department has encouraged the establishment of these
pull outs to aid in emergency situations.
Produced by the MAP (Moving Around Pender) Alternative Transport Society.