Here is an article brought to my attention today.  Go to Ferries may be lemons for the full story.
BC's German Ferries May Be Lemons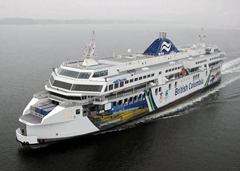 BC Ferries' Coastal Renaissance
Heavy fuel use, noise, vibration and air-sucking propellers said to be problems.

Published: November 18, 2008

TheTyee.ca
On Dec. 13, 2007, the first of three Super C-class vessels built for $542 million in Germany arrived in B.C. to much fanfare. Less than 10 months later, B.C. Ferries announced the Coastal Renaissance would be spending more days tied up at the terminal than it would carrying passengers. The publicly owned company that runs the ferries has yet to fully explain why.
Back when the Coastal Renaissance arrived, B.C. Ferries' chief operating officer Mike Corrigan said the ship's diesel-electric propulsion system was 30 per cent more efficient than the engines on older ferries. Once all three of the new vessels were operating, he said, the ferry company would save about $5 million worth of fuel each year.
But in early October, B.C. Ferries' cost savings measures included replacing the Coastal Renaissance four days a week with the 32-year-old Queen of Cowichan. The two vessels carry about the same loads, but according to the watchdog citizens' group Save Our Ferries, the Super C-class vessel requires almost 20 percent more fuel to cross the Strait of Georgia.  (news item continued… see link above)
Further to this story, is a follow up on Dec. 4, 2008 (excerpt):
While B.C. Ferries is working on the various problems, the fuel guzzling may prove the most difficult to solve. B.C. Ferries is taking steps to reduce the ships' fuel use, but observers wonder if the company, with the board's approval, simply ordered the wrong ships.
See full story here: Changing Light Bulbs – B.C. Ferries Battles Fuel Costs