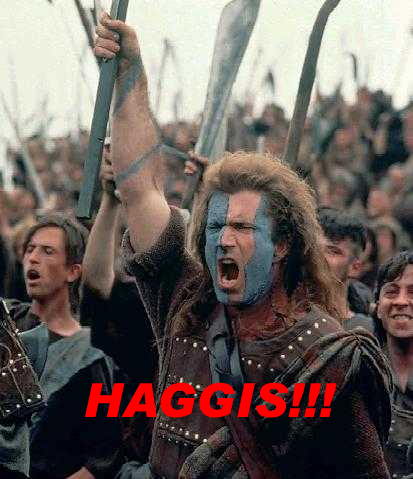 Submitted:
The Haggis Hunt scheduled for the weekend of January 12th must be stopped.  Haggis is an endangered species, with over 100,000 being consumed world-wide each January.  More than a dozen will be eaten on Pender alone at the Pender Highlanders Burns' Night Supper, January 19th (reportedly sold out).
There are alternatives.  Bjorn Bjornson of the Norwegian Institute for Studies in Textured Vegetable Protein states "I cannot tell the difference between wild caught haggis and the TVP substitute…"  (Bjorn can't tell the difference between Loch Ness and Lake Erie, either!)
What can you do?  1) Demand the Highlanders use a substitute at the Burns' Night Supper.  2) Come to the Rally at Driftwood Centre, Saturday morning, January 12.  Bring a biodegradable protest sign that has been made with recycled cardboard and non-toxic ink.  Join the march around the parking lot.  3) Go to the various habitats frequented by this adorable animal and stand between the wee, defenceless haggis and the meat loving, kilt wearing, dirk wielding, bagpipe playing, sporran sporting hunter.
Emeraldmellowness, the world's most effective environmental activist group dedicated to the issues of climate change, saving our ancient forests, and protecting the haggis will be on hand lending moral and physical support to the protest.  Their ship, the Multihued Fighter will dock at Hope Bay at 8 am and crew members will cycle to Driftwood in time for the rally.  Pack an extra granola bar in your hemp jeans, fire up the Volvo and join us in saving the haggis!
Rally and Protest Sponsored by:
Pender Environmentalists Representing Vegetarians Engaged in Righteous and Sanctimonious Exercises (P.E.R.V.E.R.S.E.)