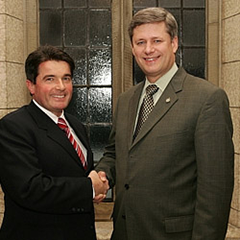 Saanich-Gulf Islands MP Gary Lunn with Prime Minister Harper.
Watchdog wants Elections Canada to investigate.

Published: March 19, 2009
TheTyee.ca
The co-manager of Conservative cabinet minister Gary Lunn's re-election campaign, Byng Giruaud, helped a third-party advertiser get signs to support his candidate.
It's just one of the details revealed in financial reporting released in recent weeks for candidates and third party advertisers involved in the Oct. 14, 2008 election.
Five months after voting day, questions remain about the role third-party advertising played in Saanich-Gulf Islands, where five previously unheard of groups bought ads to support Lunn. Lunn was natural resources minister at the time, but after the election was demoted to a minister of state position.  For the full story, go here.